What is the current status of Sojourn Center?
Sojourn Center, Inc is a 501(c)3 non-profit made possible by a strong, 13-member Board of Directors and dozens of grassroots citizens of southwest Virginia. Since our beginning vision in 2007, Sojourn Center has made considerable progress toward three important goals:
Designing and building Sojourn Center Hospice House
Securing a partnership with a hospice agency operator
Developing community support and partnerships
Our most immediate need is to contract with a hospice agency to clinically operate the hospice house.
Donate
When you support the mission of Sojourn Center, you help give terminally ill people and their families the opportunity to experience end-of-life care in a peaceful, meaningful way without discomfort. Through your support, you can honor the memory of your loved ones while helping others.
Sojourn Center Timeline
2021
2020
January – Continued relationship with fundraising professionals at Capital Development Services, Winston-Salem, NC
February – Potential operating partnership declined "at this time"

Consultation with another potential operating partner

March 1 – Sojourn Center declined Option to purchase B&B property

Beginning of Covid-19 pandemic in United States

May 27 – Roanoke Times opinion article: "Why New River Needs Sojourn Center"
May 29 – Andy Morikawa & SC Executive Committee strategic planning consultation
June – Randi Lemmon, land planning consultant, completed pro bono preliminary evaluation report to provide valuation range of market value of SC land
August – Pro bono aerial drone photography of SC property by Shaun Lacy

Sojourn Center board meetings adapted to the Covid-19 pandemic with ZOOM

September – SC and Bon Secours Community Hospice House in Richmond, VA share ZOOM consultation

October – Virtual ZOOM tour with 12 SC board/friends of Bon Secours Community Hospice House

Explored partnerships with several potential hospice and palliative care operators
SC Executive Committee attended ZOOM Re-Envisioning Philanthropy workshop 2020 hosted by Capital Development
2019
January – SC board member, Sue Ranson, retired as CEO of Good Samaritan Hospice; Aaron Housh chosen new CEO

Board members shared their Sojourn Center passion around the board table

February – Informational program to Blacksburg Noon Kiwanis

March – Informational presentation to group of local medical professionals
April – Doey's Hospice House Hospice of Washington County (12-bed facility in Hagerstown, MD designed by our architect, Tom Mullinax) awarded 1st place 2018 ABC Excellence in Construction / Healthcare Facility
Spring – Several "friend" groups toured Sojourn Center property

Continued friend-raising with many individuals in community

Friends toured the Sojourn Center property off Farmview Drive

May – Informational program for Christ Episcopal Church, Blacksburg

June – Pro bono bush hogging of property by Greg Miller of Willow Springs Farms

Fashion show and luncheon at Blacksburg Country Club with SC as keynote for Blacksburg Battles Cancer
Trip of 4 SC members/friends to Forest Rest Natural Cemetery Rocky Mount, VA to explore green burial information

July, August – Hospice General Inpatient Bed Needs Analysis by Evolve Consulting Group, Inc. received
Fall – Researched and explored an option to purchase and renovate a former bed & breakfast property in Blacksburg for the hospice house project

Visit to Forest Rest Natural Cemetery in Rocky Mount, VA

Conversations with potential operating partners about renovation of an existing building

Conversation with Blacksburg Parks & Recreation about the Huckleberry Trail

October – Significant donations received In Memory of Suzan Mauney, Glenn McMillion, & Bill Isenhour

Informational program for Blacksburg Newcomers
Received $1,000 Outreach Grant from Christ Episcopal Church
2018
January – Met with Jessica Wirgau, Community Foundation of the NRV
February – Montgomery County Board of Supervisors Tax Exemption Request meeting
May – Met with Town of Blacksburg Zoning official
June – Informational presentation for Blacksburg Partnership

Public hearing on Montgomery County real estate tax exemption; exemption passed

Rhonda Rogers and Anne Campbell participated in the AARP/VCOM Health Fair

July – Met with John Eustis, New River Land Trust

August – Attended one-day non-profit development conference in Asheville, NC sponsored by Capital Development
September – Met with VA Delegate Chris Hurst

Sojourn Center participants in AARP/VCOM Health Fair
Met with Blacksburg Town Council work session re: real estate tax exemption

October – Blacksburg Town Council Public Hearing re: tax exemption, passed favorably 7 – 0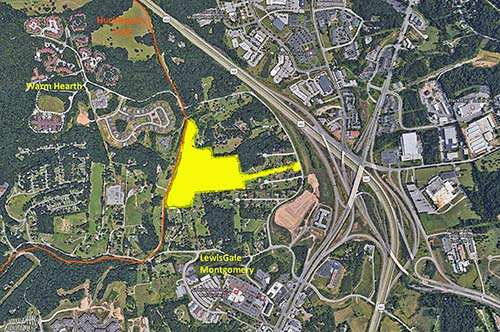 2017
February – Met with Karen Roberto and Pam Teaster, Virginia Tech Department of Gerontology

Interview with Roanoke Times medical editor, Luanne Rife

March – 2nd grant from JMM for services of Rob Glenn, RG Research, LLC, non-profit consultant, to advise SC board
May – Launched new website designed by Automations Creations, Inc.

May 22 Donation of 27-acres of land from Roger Woody!

Roger Woody made a 27-acres of land donation to Sojourn Center

May 25 – SC hosted neighborhood informational session about Woody property

May 25 – SC Board met with Charlie Phlegar, VP of Advancement, Virginia Tech
May 27 – SC Board took 1st tour on donated land

September – 4-week hospice article series in the Roanoke Times

Visited Mountain Valley Hospice &Palliative Care hospice houses in Dodson and Yadkinville, NC by 8 Sojourn members/friends
Visited Transitions LifeCare Hospice in Raleigh, NC

Board met with Allan Burroughs of Capital Development in Winston-Salem

October – Withdrawal from LOI by a potential operating partner

December – Met with Capital Development Services from Winston-Salem, NC. Capital Development, Allan Burroughs, President, selected as SC fundraising consultants
Read More
2016
February – Met with agency COO, CFO re: potential partnership

Board member, Rick DiSalvo, is always fun on a road trip!

March – Draper Aden Associates Civil Engineering Company and Blaine Keesee, landscape architect, offered pro bono Phase 1 Environmental Study Assessment report on possible land donation property from Roger Woody

March – Met with potential operating partner CFO re: pro forma

Discussion with Kissito PACE (Program for All-Inclusive Care of the Elderly, Josh McGilliard, Executive Director) re: NRV program

April – Met with Blacksburg Zoning and Planning Departments

Signed LOI (Letter of Intent) to partner with area hospice agency

May – Completion of Phase 1 ESA study by Draper Aden
July – Formation and meeting of Ad Hoc Steering Committee re: Capital Campaign; Charles & Nancy Warren, facilitators; Ray Smoot, Jim Rakes, Bob Sterrett, Lindsay West, Anne Campbell & Rob Glenn

July – Met with Roger Woody and Jim Wesel, CPA to discuss land donation

Summer – Completed contractual relationship with Balzer & Associates

Continued conversations with potential operator

September – Meeting of SC Ad Hoc Committee

SC participant in AARP/VCOM Health Fair Christiansburg

Fall – Research and informational meetings with potential operator

Met with John Leehman, neighborhood leader of homes adjacent to Woody property
Met with Craig Meadows, Montgomery County Administrator re: real estate tax exemption
Informational presentation for Lion's Club

December – Met with Blacksburg Town Manager, Marc Vermeil, and Town Attorney, Larry Spencer, and John Bush, town council and SC board member

Met with Warm Hearth CEO, Ferne Moschella
2015
Peyton Hospice House in Lewisburg, WV

January – Visited Peyton Hospice House of HospiceCare in Lewisburg, WV

February – Met with potential operating partner's COO, director of hospice and Larry Robertson, President of HospiceCare in WV
March – Conference call with National Association for Home Care & Hospice re: multiagency efforts in the United States
October – Warm Hearth & Carilion partner together to build and operate a medical clinic at Warm Hearth Village

Met with leadership team: COO, CFO, Hospice Director to discuss partnership

Patient bedroom at Peyton Hospice House

November – SC Land Team met with Roger Woody to discuss idea of 27-acre land donation to Sojourn Center
2014
Spring – Visited directors/representatives of all area hospice agencies
April – Conference calls with Tim Rogers, President CEO Association of Home Care and Hospice of North Carolina

Met with Delegate Joseph Yost

Gardens at the Crystal Coast Hospice House, Newport, NC

April – Donation of $10,000 from Dr. Harry McCoy, his monetary award upon receiving the Frist Humanitarian National Award of HCA

July – Met with Virginia Department of Health Office of Licensure & Certification in Richmond on options for multiagency leadership in a hospice house project
August – Visited Crystal Coast Hospice House in Newport, NC
2013
February – Met with Fred Kyle, Virginia Department of Health Richmond

Gardens surrounding North Carolina hospice house

April – SC presentation at 7th Annual Palliative Care Partnership of the New River Valley Conference at VCOM Event Center

Visited Sentara Hospice House in Virginia Beach, VA

May – Completion of Pro Forma finance forms

Roanoke Times article published about Sojourn Center project, "Blacksburg Group plans New River Valley Hospice Center"
SC interviewed by WUVT 90.7 Table radio show

June – Three board members attended 3-day Hospice House Network Inpatient Conference in Rochester, New York

Butterflies, known as a hospice symbol of transformation, hope, life, and spirit

September – Met with LewisGale Hospital – Montgomery CEO, COO, CFO, CNO

Met with potential partner's COO, CFO, VP and hospice director

December – Hospice House Demand Methods & Projections for the New River Valley document completed for the leadership team of potential partner
2012
January – Educational luncheon sponsored by John Dooley with Virginia Tech leaders

Keith Curtis delivered feasibility report to the Sojourn Center board

February – Completion of preliminary study to determine Sojourn Center's fundraising potential with The Curtis Group from Virginia Beach

Spring – SC board changed model from ALF to "in-patient hospice facility" as defined by Virginia Department of Health to include care of critical patients and treatments. New focus for SC on partnering with a hospice provider operator
Spring, Summer & Fall – Visited approximately 70 community members, Warm Hearth, medical and hospice leaders to inform about SC including Senator John Edwards, Delegate Joseph Yost

Interviewed Andrew Reed, CPA with MultiView Systems in NC exclusively focused on financial management of hospice agencies and houses

Bedroom at Burke County Hospice House in Valdese, NC

Summer – Received $10,000 grant from JMM grant for services of Rob Glenn, RG Research, LLC, non-profit consultant to advise SC board

August – Visited Burke Hospice & Palliative Care in Valdese, NC
September – Visited Hospice of Rockingham County in Reidsville, NC
October – Visited Blue Ridge Hospice in Winchester, VA
November – Toured Warm Hearth property with architect, Tom Mullinax
2011
January – Signed contract with Wes Baker of Trenchinteractive.com for web design of www.sojourncenter.org

Completion of Sojourn Center green mountain logo by Wayne Thomas
1st printing of business and note cards

February – Selected Balzer and Associates architectural firm for beginning architectural programming

Received $4,000 grant from Luther Memorial Lutheran Church
Received $1,500 funding from Blacksburg Presbyterian Community Ministry Committee

Andy Morikawa and Linda Tegarden at the Strategic Planning Workshop May 2011

March – Visited Bedford House president (building under construction)

Memorial gifts received in memory of Herb Miller
1st SC flyer developed by Janet Keith Ellenbogen

April – Visited Duke's Hock Pavilion Hospice Facility in Durham, NC and Duke's Hospice at the Meadowlands Hospice House in Hillsborough, NC

Visited with Delegate Jim Shuler
Application accepted for VA Registration for a Charitable Organization
Continued presenting community group and individual meetings
Visited Hospice & Palliative Care Center of Alamance-Caswell in Burlington, NC

May – Visited Shenandoah House in Fishersville, VA,

May 22 SC Board and Friends Strategic Planning Workshop at BPC; Facilitator, Andy Morikawa, 22 attendees

June – Visited Burke Hospice and Palliative Care in Valdese, NC

Tom Mullinax, Sojourn Center architect

July – Received $17,000 grant from Blacksburg Presbyterian Church Endowment Funds for feasibility study

Hired Tom Mullinax, architect/owner Hospice Design Resources as primary designer. Tom has designed over 50 hospice facilities in U.S.

September – SC Board met with Keith Curtis of The Curtis Fundraising Group from Virginia Beach re: feasibility study
November – Architectural Programming meeting with Tom Mullinax and Craig Balzer and 15 SC members
2010
March – Community educational luncheon at Blacksburg Presbyterian Church; 43 attendees
April – SC application made for 501(c)(3) non-profit status from US Treasury
May- 4 Visited Bowers Hospice House in Beckley, WV
Spring/Summer – Community presentations to Blacksburg United Methodist Church, Christiansburg Blacksburg Rotary Club, NRV Parish Nurses, St. Mary's Catholic Church, Chapter AU PEO, Blacksburg Noon Rotary
June – Received $7,640 endowment grant from Blacksburg Presbyterian Church
Summer – Consultation meeting with Minnis Ridenhour

Formed 3 working teams: Architect Selection, Market and Media, and Land Acquisition
Continued informational presentations to community civic clubs
SC approval for 501(c)(3) non-profit status
Visited Williamsburg Hospice House

Bowers Hospice House in Beckley, WV

Fall – Formation of Market & Media Team: Pam Forsythe, Linda Tegarden, Cindy Easterwood, Nancy Valett, Janet Keith Ellenbogen

Met with Heather Gearhart from Warm Hearth about land/building availability
Architectural Selection Team invited proposals from 13 architectural firms from which 4 were selected for interviews;
Formation of SC Land Acquisition Team: Greg Campbell, Brad Denardo, Mike Eggleston, Pam Forsythe

December – Began architectural firm interviews
2009
1st Sojourn Center logo 2009

Spring & Summer – Developed extensive business plan with initial financial projections: Linda Tegarden, Reed Kennedy, Cindi Easterwood, Anne Campbell

Selected consultant architect, Tom Mullinax, Hospice Design Resources to advise Balzer & Associates

September – Articles of Incorporation submitted to State Corporation Committee by Steve Wagner

Peter Ozolin reserved domain name, www.sojourncenter.org

Board Mini-Retreat October 2009

October – Mini-Retreat at BPC; Andy Morikawa, facilitator, 10 attendees

Peter Ozolin and Donald Sunshine presented 1st SC visual image
Reviewed 501(c)3 application process
Adopted the ALF model for Sojourn Center with the intent of creating an independent facility served by multiple hospice agencies – not a true "hospice facility" by Virginia regulations. (This plan would change.)
2008
January – NRV Assessment Survey of Potential Patient Referral Facilities document: 3 hospitals and 3 ALFs by Dr. Tina Smusz and Pam Forsyth, RN

Greg Campbell and Steve Wagner serve Sojourn Center's legal needs

April – Research and presentations about 11 hospice houses by 35 MBA students of Linda Tegarden, VT Business Management professor

May – NREOLC organizational meeting with Andy Morikawa

Opened PO Box 295 Blacksburg, VA 24063
Interim board of directors formed with Founding Members: Nancy Valett, RN, Pam Forsythe, RN, Dr. Tina Smusz, Connie Fitzsimmons, RN, Anne Campbell, Peter Ozolin, Dr. Harry McCoy, Donald & Joanna Sunshine; Founding Advisors: Financial, Cindy Easterwood; Structure, Andy Morikawa; Legal, Greg Campbell & Steve Wagner

June – Steve Wagner approached re: by-laws and necessary organizational papers
September – Reed Kennedy consulted re: business plan
Fall – Name Sojourn Center (suggested by Dr. Tina Smusz) chosen. Sojourn meaning a temporary stay, an interlude in a journey
November – Blue mountains logo designed by Aimee Drysdale Design
December – Sojourn Center name reserved with VA State Corporation Commission
2007
September – Initial meeting of ten community members to discuss establishment of a hospice house in the New River Valley: Dr. Tina Smusz, Dr. Harry McCoy, Peter Ozolin, Pam Forsyth, RN; Nancy Valett, RN; Connie Fitzsimmons, RN; Donald and Joanna Sunshine, Anne and Greg Campbell
October – First meeting with temporary name New River EOL Center
This we wish for you above all else; comfort for you pain, respite from your sorrow, memory unyoked from regret, and peace for today and all your days.