Photo Gallery
---
On May 22, 2017 Sojourn Center received a generous donation of 27-acres of land from Roger Woody of Christiansburg. The land, which is located off of Farmview Drive in Blacksburg, is largely wooded with a central clearing that would be ideal for a hospice house. The land is located between LewisGale-Montgomery Hospital and Warm Hearth Village and is close to the 460 Bypass and South Main Street interchange.
This gallery section exhibits pictures of the May 22, 2017 closing of the donation to Sojourn Center. Pictured are Arthur Shaheen, closing attorney; Roger Woody, donor of the land; Anne J. Campbell, President of Sojourn Center board of directors; and Jim Wesel, CPA and assistant to Mr. Woody.
In addition there are pictures from the May 25 meeting with neighbors of the Woody property and members of the Sojourn Center board.
May 22, 2017 Roger Woody to Sojourn Center Land Donation Closing
Maps and Pictures of Woody Property Donation
May 25, 2017 Woody Property Neighborhood Meeting
---
Members of the Sojourn Center board of directors have visited 15 existing hospice houses to learn about their governance, rules and regulations, interior and exterior architectural features and start up experiences and challenges. Below are some pictures of features of those visits.
Images from Hospice Houses
---
WELCOME
---
Sojourn Center will be a residential house for hospice care and an educational center dedicated to providing compassionate care of terminally ill people and their families in the New River Valley of Virginia. Sojourn Center is a broad-based community effort founded on the belief that all people deserve access to end-of-life care that enhances dignity, comfort, and quality of life. We envision a healing environment that honors, celebrates and lovingly supports the final passage of life for patients and their loved ones. Sojourn Center will be comprised of a 7-bed residential house where residents can receive state-of-the art hospice care and where residents, their loved ones, and caregivers find personal meaning and worth in life's final journey. Sojourn Center will develop an education center for hospice and palliative care that will serve as a training location for students of medicine, nursing, social work, pastoral/spiritual care and other human services.
NEWS
---
Spring is here and walking with friends on the Sojourn Center property is fun.  John Hillison, George Mauney, Dr. Richard Shepherd and Dr. Bill Baker stopped to indulge Anne Campbell in a happy picture. If you would like to walk on the 27-acres donated to Sojourn Center in 2017 by developer, Roger Woody, please contact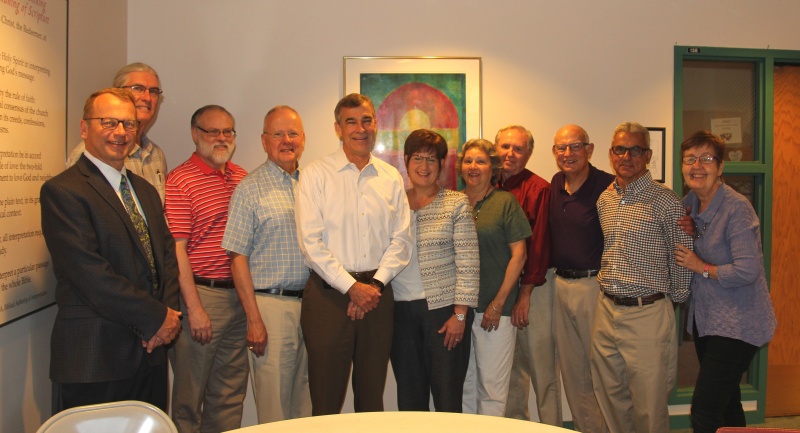 "As a nurse, one of my favorite quotes- ' To make a difference in someone's life, you don't have to be brilliant, rich, beautiful, or perfect.  You just have to care.- Mandy Hale', caring for others in their time of need is my greatest passion. 
"There is so much life at the end. Time and again, I'm surprised and awed by the healing and hope that rush in during final moments… when they are surrounded with care and grace. As a pastor, I can imagine no greater help to facilitate this leg of the journey than the presence of a committed hospice house. Sojourn is such a sacred idea… may it be so."
Of all the patients I have been privileged to care for in my 40+ years as a nurse, those who "spoke" to me" and whom I remember best, are those who were dying.  From the elderly man on the med-surg floor, to the 3-year-old little girl with a brain tumor, these people taught me the most about living and dying.  They are my heroes.  I feel blessed that for the past 25 years my passion for excellent care at the end of life has been part of my professional work through Good Sam Hospice and other organizations devoted to seeing that what matters most to people at the end of life is fulfilled.  Sojourn Center is "passion in action"!  Not everyone can stay at home at the end of life, and our Sojourn Center vision to build a beautiful place for people who want and need this type of setting will help us better assure that we can meet the needs of our families and neighbors at the end of life.
Having worked with many families receiving hospice, I know what a difference hospice care can make and look forward to helping Sojourn Center hospice house become a community resource supporting patients and families at the end of life.
The positive and supportive experience provided by hospice care during the deaths of several loved ones in my family motivates me to serve with this committed group of people. The compassion, knowledge, and genuine empathy provided by hospice were invaluable, and I would like to see those qualities built upon and broadened for others in similar situations. I have experienced firsthand the benefits of hospice care and understand the need in our community for a hospice house and educational center.
Through the difficult deaths of family members and friends, I have grown to appreciate the tremendous difference a hospice house can make in the final days of life, both for the individual and for his/her family and caregivers. Likewise, the fact that Virginia has only four licensed hospice houses while North Carolina has 55, has made it clear to me that we have a void that must be filled!
In 2006, I met with two hospice nurses whose dream was to establish a house where hospice patients could die in peace and comfort when they lack a caregiver, or when discomforts escalate beyond what can be managed at home. This is a recurring need that presents a huge stress for the dying person, their loved ones, and the devoted hospice team. I believe our community could embrace the responsibility of providing shelter, compassion, and expert management of suffering to those in need. Sojourn Center grew out of this need and the confidence in the goodness and generosity of the New River Valley community.
For the past 30 years, I have been passionately dedicated to enriching the lives and care of children and elders. When I heard about the mission of the Sojourn Center, I knew I wanted to be a part of making it a reality. I am so grateful for the opportunity."
Ed invited me to join the Sojourn Center because of the experience I had with my dad. We discussed palliative and hospice care as his health continued to fail and this raised questions for me about the process, the cost, and how it would help us. I hope that serving on this board will educate me so that I may be able to help someone else.
As a practicing hematologist-oncologist and hospice medical director, I have helped patients and their loved ones find acceptance and peace as they transition towards the end of life. This achievement is just as important as the aggressive care that helps them live with their disease. End of life care, notably pain and symptom management, are increasingly in demand in our local hospitals and healthcare facilities. Sojourn Center's hospice house will provide the premier setting for educating various types of caregivers in delivering state-of-the-art terminal care with an emphasis on compassion and personal growth for the dying, their loved ones, and future healthcare providers.
Giving back to the Blacksburg community is a driving force for me, and work on issues of livability and quality of life are the driving forces behind my public service. Nothing exemplifies this more than the critical necessity of hospice services and the critical need for a local hospice house.
Just as with birth, we have but one opportunity to 'get it right' at the end of life. I want to be part of this local effort to promote living well until the end of life. I'm also dedicated to changing the culture of end-of-life care in the NRV. Thomas Merton said 'The biggest human temptation is to settle for too little.' Our Sojourn Center project is not willing to settle for too little.
Having spent 23 years working in hospitals, I've witnessed countless lives saved by the talented and compassionate care of physicians and staff. That talented and compassionate care is just as important at the end of life as it is when saving a life. My father passed away in a hospice house, and I will always remember the kindness and empathy of the staff in his last days. It is my fervent hope that, through the efforts of Sojourn Center, the New River Valley will soon benefit from a hospice house of its own.
My first experience with hospice was with my closest friend; I was honored to hold his hand when he died. Next was with my father-in-law, a situation in which I asked the oncologist to explain the hospice option to him; our family was with him when he died. Both of these deaths occurred at home, and the idea of a hospice house seemed like a very good one to me, particularly in service to those who do not have good alternatives.