Board of Directors and Officers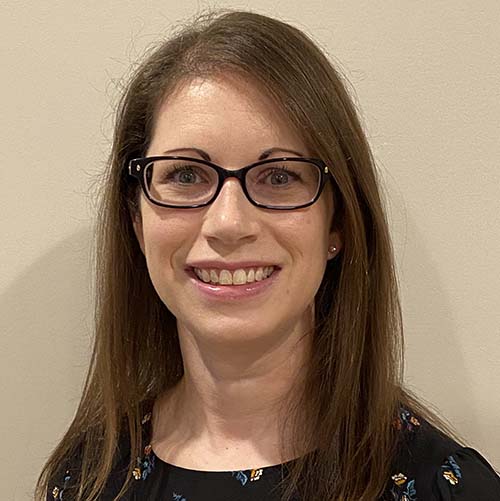 Samara McMillion Abplanalp, Treasurer
Certified Public Accountant, McMillion & McMillion, PC
Samara McMillion Abplanalp is a certified public accountant and owner of a public accounting firm, McMillion & McMillion, PC. She grew up in Blacksburg, VA and loves the community and opportunity to work with many diverse clients in the New River Valley, and worldwide. She spends her "spare" time with her husband and daughter, and their small zoo of cats and dogs. She became involved with Sojourn Center when her father served on the board as Treasurer, and after his passing, she accepted the honor to serve as Treasurer with the mission much closer to her heart. About serving as Treasurer of Sojourn Center, she says
"Both hospice patients and their families need support during a difficult time for all involved. There is a great need for this support in the New River Valley, Virginia, and Sojourn Center is working hard to fulfill this need with a future inpatient hospice house for the New River Valley."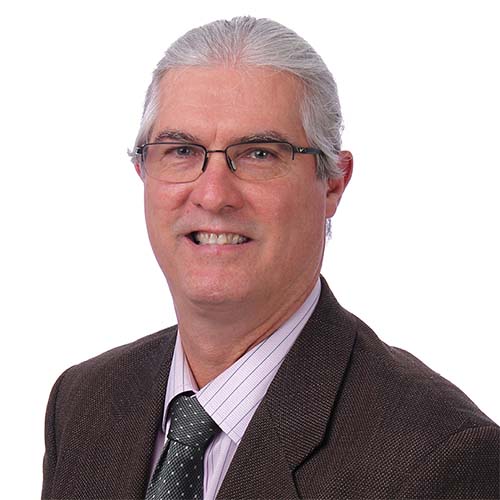 John Bush, AIA
Senior Architect, Office of University Building Official, Virginia Tech
John Bush is a member of the American Institute of Architects and has worked as an architect in Virginia Tech Facilities since January 2001. He has worked professionally as an architect in the University Architect's Office, the Office of University Planning and currently in the Office of the University Building Official.
He has been serving on Blacksburg Town Council, as well as numerous other town committees since January 2010. A skilled frame and trim carpenter, Bush studied the Great Books, philosophy, history, and Ancient Greek at St. John's College and holds a master's of architecture from Virginia Tech. He and his family have lived in Blacksburg since 1984.
"Giving back to the Blacksburg community is a driving force for me, and work on issues of livability and quality of life are the driving forces behind my public service. Nothing exemplifies this more than the critical necessity of hospice services and the critical need for a local hospice house for our community."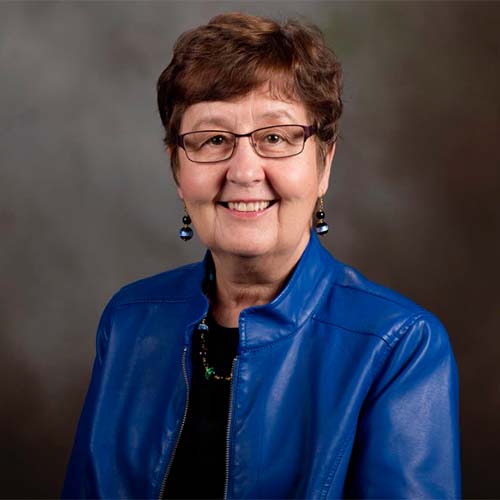 Anne Judkins Campbell, RNC, MEd, MSN, President
Women's Health Nurse Practitioner, retired
Anne Judkins Campbell is a Blacksburg native and founding member of the Sojourn Center board, along with Tina Smusz and Harry McCoy. After 25 years as a women's health nurse practitioner and the first NP in the NRV, Anne retired in 2004 from Montgomery Obstetrics and Gynecology, Inc and LewisGale Hospital – Montgomery. She volunteered at the Free Clinic of the New River Valley for 27 years before it became the The Community Health Center of the NRV. Campbell retired from her professional work to care for her mother, and experienced the gift of hospice in 2002 and 2005 with her parents, through the support of Carilion Clinic Hospice. Anne is active in the Blacksburg Presbyterian Church and the Lifelong Learning Institute at Virginia Tech and serves as President of the Sojourn Center Board. On what drew her to Sojourn Center, she says
"Just as with birth, we have but one opportunity to 'get it right' at the end of life. I want to be part of this local effort to promote living well until the end of life. I am dedicated to changing the culture of end-of-life care in the NRV. Thomas Merton said 'The biggest human temptation is to settle for too little.' Our Sojourn Center project is not willing to settle for too little."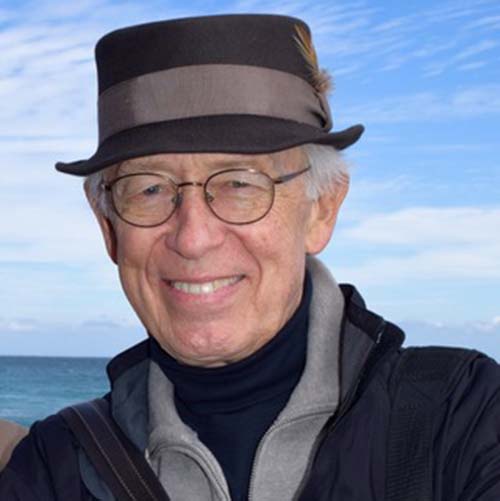 Fred Carlisle, Ph.D Virginia Tech
William E. Lavery Professor and Sr. VP and Provost Emeritus
Fred Carlisle enjoyed a 40 year career in higher education as both a professor and a provost. After he retired from Virginia Tech as William E. Lavery Professor and Senior V.P. and Provost Emeritus, he spent 11 years helping develop the higher education system in the United Arab Emirates. He is the author of five books, most recently Hollow and Home: A Story of Self and Place. He has been a member of the Board twice-first in the early 2010s before he moved to Florida and now since 2019. He currently resides with his wife, Beth Obenshain, at Oaknoll Farm in Blacksburg.
"My late wife and I benefited enormously from 5 months of hospice care for her in 2007. That experience has driven my continuing commitment to hospice and my belief in the necessity for a hospice house in the New River Valley. Sojourn Center for Hospice Care will complete the spectrum of healthcare in the area, but more importantly, it will serve individuals at the end of life and families caring for loved ones and facing loss."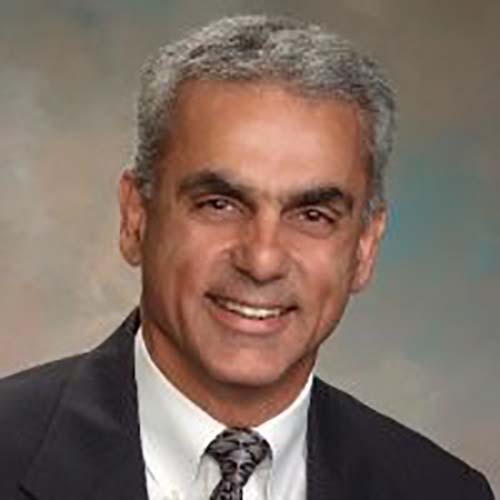 Richard M. "Rick" DiSalvo, Jr.
Civil Engineer, retired, Executive Vice President and COO, Draper Aden Associates
Rick DiSalvo retired as COO from Draper Aden Associates, a mid-Atlantic environmental engineering and surveying firm. Since retiring, he has started a ministry at St. Mary's Catholic Church, His Hands, providing home repair services to elderly and disabled parishioners. He also serves on the board and also maintains the building of the Montgomery County Christmas Store, an all-volunteer, community-wide organization assisting low-income families during the Christmas season. Holding a B.S. and M.S. Civil Engineering degrees from Virginia Tech, DiSalvo brings extensive engineering experience to the board
"Having lost family members under the care of hospice, I deeply appreciated the love and care shared with my family by the hospice nurses. My parents passed from their home, but not everyone has that option. The peacefulness of my parents' passing in their home setting under hospice care is an experience that others should be able to choose. Having a hospice house in the NRV would allow families to know their loved ones are receiving compassionate care in a homelike setting. Family members could gather, much like they would in the comfort of their own home settings, as they prepare to say goodbye to a loved one."
"I am honored to part of the team working to make a Hospice House in the NRV a reality."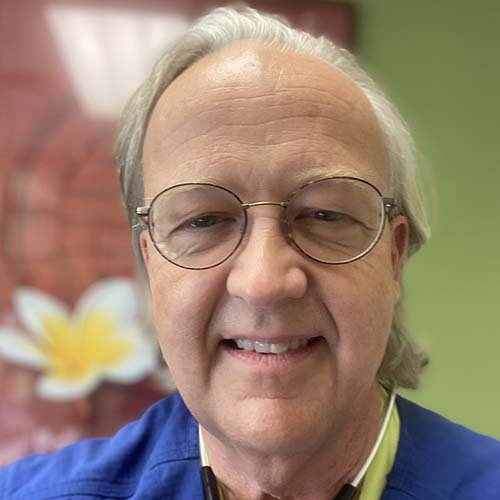 Harry McCoy, MD, HPM
Oncologist, Blue Ridge Cancer Care, Blacksburg
Dr. Harry McCoy is a practicing hematologist-oncologist born in Norfolk, Virginia. He has also been a hospice director for over 15 years. Dr. McCoy received a B.A. in psychology at the University of Virginia, and obtained his M.D. from the University of Virginia Medical School. Dr. McCoy did his internship, residency and then a four-year fellowship in hematology and oncology at the University of Florida. He is board certified in medical oncology, hematology, internal medicine and hospice and palliative care. He is also a member of several professional societies, including the American College of Physicians and American Society of Clinical Oncology. Dr. McCoy has multiple scientific publications. He is married and has two children, and his family enjoys their life in the New River Valley.
"As a practicing hematologist-oncologist and hospice medical director, I have helped patients and their loved ones find acceptance and peace as they transition towards the end of life. This achievement is just as important as the aggressive care that helps them live with their disease. End-of-life care, notably pain and symptom management, are increasingly in demand in our local hospitals and healthcare facilities. Sojourn Center hospice house will provide the premier setting for educating various types of caregivers in delivering state-of-the-art terminal care with an emphasis on compassion and personal growth for the dying, their loved ones, and future healthcare providers."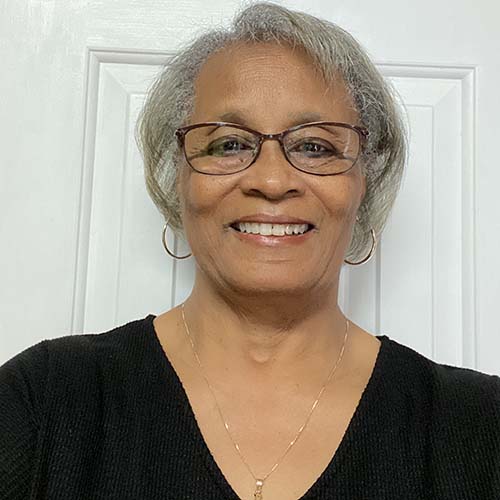 Rhonda M. Rogers, Corresponding Secretary
Former Assistant & Office Manager, retired, Student Affairs Cultural and Community Centers, Virginia Tech
Rhonda Rogers worked as executive assistant and office manager in the Student Affairs Division at Virginia Tech for 45 years. She was recognized for meritorious service to students by the Southeastern Association of Housing Officers, received the Virginia Tech Division of Student Affairs Heroine Award, was a recipient of the Virginia Tech President's Award for Excellence and following her retirement, received the 2019  Staff Career Achievement Award. Rogers holds an associate's degree in secretarial science from Wytheville Community College and  earned a career studies certificate from New River Community College. Rogers is lay leader at Asbury United Methodist Church. She is married to Phil Rogers, and has two children and three grandsons.
"Fellow board member, Ed Spencer, invited me to join the Sojourn Center board because of the experience I had with my dad. We discussed palliative and hospice care as his health continued to fail and this raised questions for me about the process, the cost, and how it would be beneficial for us. I hope that serving on this board will educate me so that I may be able to help someone else."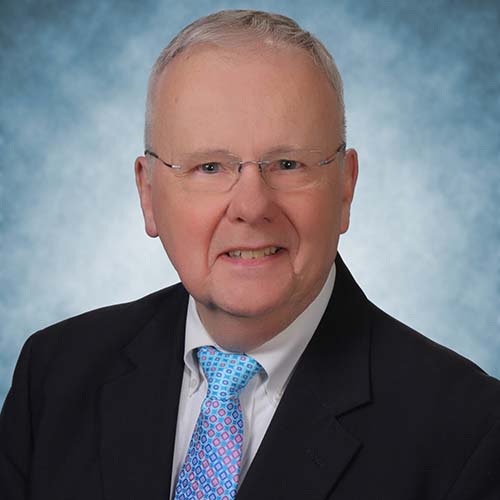 Edward Spencer, Ph.D., Vice President
Vice President Emeritus for Student Affairs, Virginia Tech
Edward Spencer earned the title of Vice President Emeritus for Student Affairs at Virginia Tech when he retired in 2012 after a 42-year career in student affairs administration at Virginia Tech and at the University of Delaware. He holds a Ph.D. and an M.A. in social psychology from Delaware, an M.A. in student personnel administration in higher education from Syracuse, and a B.A. in psychology from the University of Rochester. He has received numerous professional and community awards and served on a variety of boards and committees. In retirement, he serves locally as chairman of the board of directors of Warm Hearth, Inc. and as vice president of the Sojourn Center Board. He does occasional consulting for other colleges and universities. Most importantly, he is grandfather to Quin and Brandon Spencer who live just three blocks away from him in Blacksburg.
"Through the difficult deaths of family members and friends, I have grown to appreciate the tremendous difference a hospice house can make in the final days of life, both for the individual and for his/her family and caregivers. Likewise, the fact that Virginia has only 10 licensed hospice houses while North Carolina has 41, has made it clear to me that we have a void that must be filled!"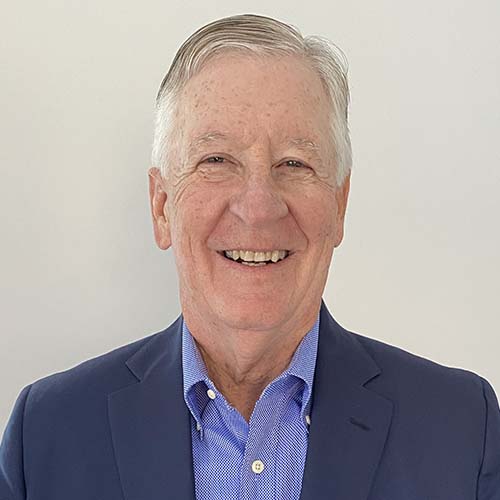 Bob Sterrett, Recording Secretary
Human Resources Director, retired, Moog Inc.
Bob Sterrett was previously the human resources director for Moog Components Group, headquartered in Blacksburg, and worked for Moog for 37 years. He is a Virginia Tech alumnus and was a teacher, coach, and guidance counselor in the New River Valley before entering the business world. He has served on the boards of Blacksburg Country Club and Blacksburg United Methodist Church and participated in various other community organizations. He and his family have lived in the New River Valley since 1965.
"The positive and supportive experience provided by hospice care during the deaths of several loved ones in my family motivates me to serve with this committed group of people. The compassion, knowledge, and genuine empathy provided by hospice were invaluable, and I would like to see those qualities built upon and broadened for others in similar situations. I have experienced firsthand the benefits of hospice care and understand the need in our community for a hospice house and educational center."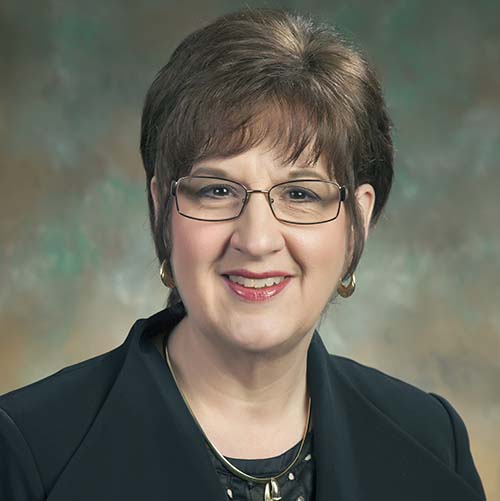 Lisa T. Sprinkel, MSN, RN
Vice President, Carilion Clinic Home Care and Hospice
Lisa Sprinkel has served as senior director of Carilion Clinic Hospice since 2006 and senior director of Carilion Clinic Home Care five years previously and is the current Vice President of Home Care and Hospice. She received her diploma in nursing from Roanoke Memorial Hospital's School of Professional Nursing, her bachelor's degree in business from Mary Baldwin, and her M.S. in nursing administration from Jefferson College of Health Sciences.
"We, as health care providers, have a duty and obligation to our patients to understand, acknowledge and respect their wishes in all aspects of their health care experience. That duty becomes an imperative when we are accompanying them through the process of a potentially life limiting illness, and we have opportunities to improve. My mission is to present hospice and end-of-life care as a means to healing the soul when healing the body is no longer possible."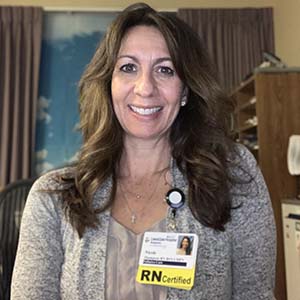 Nicole Thompson,BSN, RN, CHPN
Palliative Nurse Specialist LewisGale Hospital Montgomery
Nicole Thompson has been a Registered Nurse for over 27 years. 22 of those years were spent working as an ICU nurse at Carilion Roanoke Memorial Hospital, and the last 5 years she worked as a Nurse Case Manager for Carilion Hospice in the New River Valley. Most recently, Nicole has taken on the role of Palliative Nurse Specialist at LewisGale Hospital Montgomery, where she serves as a consultant for those with serious and chronic illnesses, advocating for a focus on comfort and quality of life. Promoting and facilitating difficult conversations with patients, families and the Interdisciplinary Team regarding goals of care, as the Palliative Nurse Specialist, Nicole is available to provide an extra layer of support to those facing life limiting or life threatening illnesses.
Nicole graduated with an Associate's Degree in Nursing from Jefferson College in 1993, then received a Bachelor of Science in Nursing in 1997 from Virginia Commonwealth University. Throughout her career, Nicole has attained 3 specialty certifications, currently maintaining that of Certified Hospice and Palliative Nurse (CHPN). A Christiansburg native, Nicole is an active member of her local church, Faith Missionary Baptist. She and her husband Greg are blessed with their blended family of 5 very busy high school and college age children.
"As a hospice and now palliative nurse, I have walked alongside many patients and families through their end-of-life journey. While this road is often difficult, the support and education provided by the hospice team can make an immeasurable impact and yet is so underutilized. My passion is to bring the expertise and compassion of dedicated hospice professionals to more and more folks across the New River Valley. For this reason, it is my honor to serve on the board of Sojourn Center and I look forward to seeing the hospice house's establishment."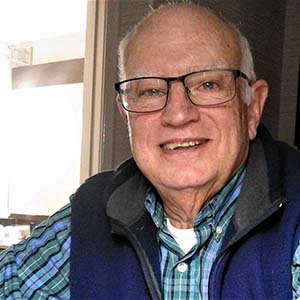 Jerry W. Via, Ph.D.
Associate Dean Emeritus, Virginia Tech College of Sciences
Jerry W. Via is a native of Roanoke, Virginia. He graduated from Roanoke College with a Bachelor of Science, obtained his master's in zoology from the College of William and Mary, and completed his doctorate at Virginia Tech. He served Virginia Tech in several capacities, starting as an assistant professor in the department of biology, then as assistant registrar, and coordinator of athletic advising. Jerry was then appointed to assistant dean for curriculum and advising for the College of Arts and Sciences and later the College of Science. His specialty is the ecology and natural history of birds. Jerry has led many field trips for bird watchers around the state as well as Costa Rica, and was the coordinator for an education abroad program in the Dominican Republic for seven years. He has taught for 23 years in Elderhostel/Road Scholar programs across Virginia as well. Jerry serves as the president of the New River Valley Bird Club and gives many natural history presentations for bird clubs and other groups. He is also a lifelong member of First Church of the Brethren in Roanoke, Virginia. After 37 years of teaching and advising, Jerry looks forward to traveling and other opportunities for teaching and helping others.
"A hospice house provides a homelike environment with loving care for patients and family as they face the end of life. It is time for the New River Valley to have this resource for those who need special care not available in their homes."
"Never doubt that a small group of thoughtful, committed citizens can change the world; indeed it's the only thing that ever has."
– Margaret Mead